Erasing The Distance is greeting spring with two brand new shows. The first, FACING THE RAIN, is a play composed of stories collected from college students. Our newest piece, WHAT'S BEHIND OUR EYES, tells the true stories of 5 high school students struggling with mental illness. The inspiration for this show came from our partnership with Communities in Schools of Chicago.

CISC specializes in connecting underserved schools and students with service providers of free social, emotional, health and enrichment programs. They saw a real need in Chicago schools for mental health programming that could be delivered in a creative way, so they came to us with a request: would we create a play that told stories their students could relate to? Stories from real kids, from diverse backgrounds; stories that let their students know they were not alone.

So ETD spent several months in school residencies as well as talking to teens willing to meet one-on-one to gather the stories that would become WHAT'S BEHIND OUR EYES. Now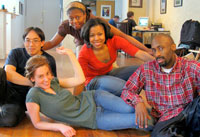 the script has gone into rehearsal, with an amazing new cast, and an exciting directing team: Larry Grimm (veteran of the Chicago stage and an experienced teaching artist) and assistant director Shana Bender. According to ensemble member Rhonda Bynum,
"Rehearsals have been a thrilling experience. It's a beautiful thing when you can use art to make a difference."
We are so proud of the brave students who shared their stories with us, and now we look forward to sharing those stories with our young audiences.

Excerpts from both new shows, as well as our signature piece, THE PEOPLE I KNOW, will be on display at our Spring Showcase in May, so please come out and see what's new at Erasing The Distance! Or, check our calendar of upcoming performances online at www.ErasingTheDistance.org.